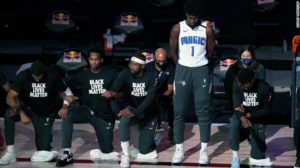 Before one of the many NBA games, organizations were unified by wearing Black Lives Matter T-Shirts and kneeling, while the National Anthem Played. However, one player, Jonathan Issac, decided not to kneel or wear a Black Lives Matter T-Shirt. For the record, I FULLY SUPPORT HIS and anyone else's RIGHT NOT to KNEEL OR NOT to WEAR A SHIRT and to speak in any manner that he or anyone else chooses. Although he does not owe anyone any explanation, he did provide an explanation- of which I take exception. To be fair, he did say he supports Black Lives, but on why he did not kneel or wear the Black Lives Matter T-Shirt he said, "I felt that kneeling and wearing a Black Lives Matter T-Shirt don't go hand in hand with supporting black lives".
Again, Mr. Issac nor anyone else does not have to wear a shirt or kneel to support black lives or any other marginalized group.  However, I'm afraid I have to disagree with the above statement -not his decision.
First, while the anthem was playing, Colin Kapernick kneeling caused many people to look at the issue of social justice. While he was vilified in the media at first, after the George Floyd incident, many people began to revisit social justice and the kneeling by Colin. These protests, which included many marches with signs, voices, and all manner of social justice movements were led by the slogan of black lives matter.
As a result, the movement has not only been a symbolic gathering of social club socialites- many policies have been enacted to attempt to address some of the inequalities that blacks face in this country.  Some organizations poured in millions of dollars because of this movement. To highlight one significant result, MacKenzie Scott, the ex-wife of Amazon co-founder Jeff Bezos gave 1.6 billion dollars to charitable causes, which $586,700,000 went specifically to racial equity.  Ms. Scott specifically, "asked a team of non-profit advisors with key representation from historically marginalized race, gender, and sexual identity groups to help identify organizations".  Howard University got $40 million, Hampton University $30 million, Morehouse College8figures), Spelman College, Tuskegee University ($20million), and more. Some of these schools that were on the brink of financial ruin will now be able to help educate our next generation of leaders. Hosea 4:6, "My people are destroyed because for the lack of knowledge"
There have been many other effects of the movements, such as changes in public opinions, an increase in revenue for many black-owned companies, and policy reviews on how Blacks are policed -especially in the wake of the killing of George Floyd and Ahmaud Arbery.
However, most importantly the Black Lives Matter movement prompted the NBA to allow players to bring attention to social justice causes by speaking and writing names and slogans on their jerseys-especially that of Breonna Taylor, who was wrongly murdered while sleeping in her own home.  Not only have there been a lot of money poured into the black community because of the protests and the movement, but many people have joined this movement.
I attest that without protests and active calls to attention by people who either kneel, wear t-shirts, or speak- many of the positive actions would not occur.  The killers of George Floyd and Ahmaud Arbery would not have been arrested without public protest. Hopefully justice comes for Ms. Taylor.  Athletes have a huge platform and they can keep the conversation going and the movement fresh.  Since I am an avid Christian, another scripture comes to mind- James 2:20 "Faith without works is dead".
Lastly,  a retort from the Martin Luther King -when his detractors told him that the sit in movements were useless and that anyone could sit- even a  boys and dogs.  Dr. King responded by saying- when the protestors were sitting down they were really standing for the best of the American Dream.  I make the same contention that when these players, coaches, and staff are wearing BLM T-Shirts and kneeling down, they are really standing up for social justice.